GOP Congresswoman Discusses Plans To Advance 'Winning' Marijuana Issue Under New House Majority
Louisiana Task Force Weighs Employment Protections For Medical Marijuana Patients
Maryland Lawmakers' Marijuana Workgroup Discusses Tax Options In First Meeting Since Voters Approved Legalization On Ballot
White House Touts Biden's Marijuana Pardons Among 'Top Accomplishments' For Administration
Congressional Lawmakers Seek Federal Banking Data On Marijuana Business Ownership To Promote Industry Equity
Legal Marijuana Access Tied To Lower Risk Of Lung Injuries From Contaminated Vapes, Study Indicates
People Who Use Psychedelics Are More Connected To Nature And Knowledgeable About Climate Change, Study Finds
Most Americans Don't Think Marijuana Is Dangerous Despite Prohibitionist Arguments, Poll Finds
Federal Marijuana Prohibition Is Putting Patients At Risk Of Consuming Contaminated Products, Study Finds
Medical Marijuana Helps Patients Reduce Use Of Addictive Opioid Painkillers, Study Finds
Feds Tell National Park Visitors To Stop Licking Psychedelic Toads
No, Schumer Is Not Seeking To Legalize Marijuana Use And Sales On Amtrak
SXSW Announces Marijuana And Psychedelics Panel Lineup For 2023 Festival
NBA Won't Test Players For Marijuana For Third Season In A Row, Report Says
Cannabis Company And Major League Baseball Sign Deal For Charlotte's Web To Be 'Official CBD of MLB'
Marijuana Companies And New Jersey Governor Team Up To Urge Consumers To 'Buy Legal'
Nevada Marijuana Regulators Have Received 100 Consumption Lounge Applications, With Plans To Approve By Early 2023
Marijuana Is A More Valuable Crop Than Potatoes Or Rice, New Leafly Report On Adult-Use Market Finds
Arizona Nears $1 Billion In Legal Marijuana Sales For 2022
Pennsylvania Launches $200,000 Grant Program To Support Hemp Marketing And Consumer Awareness
Maryland Lawmakers' Marijuana Workgroup Discusses Tax Options In First Meeting Since Voters Approved Legalization On Ballot
Kentucky Governor Signs Executive Orders Allowing Medical Marijuana Possession From Other States And Regulating Delta-8 THC
Congressional Lawmakers Hold Hearing On Marijuana Legalization In Committee
Colorado Governor 'Excited' About Psychedelics Legalization Vote, Touting 'Promising' Medical Benefits Despite Not Endorsing Before Election
Booker Says Marijuana Reform Can Pass 'Now' During Lame Duck Or 'Many Years From Now' After GOP Takes House Control
KY gov signs medical cannabis order (Newsletter: November 16, 2022)
Congressional 'joint memo' on cannabis hearing (Newsletter: November 15, 2022)
MO cannabis regs filed days after legalization approved (Newsletter: November 14, 2022)
What congressional elections mean for cannabis (Newsletter: November 11, 2022)
Legal cannabis prospects jump in MN with Senate flip (Newsletter: November 10, 2022)
Published
on
By
As pressure builds for Congress to advance marijuana reform before the session ends, two lawmakers are asking the Financial Crimes Enforcement Network (FinCEN) to provide data on minority cannabis business ownership that they believe can inform equity-focused legislation.
Reps. Barbara Lee (D-CA) and Earl Blumenauer (D-OR), co-chairs of the Congressional Cannabis Caucus, sent a letter to FinCEN Acting Director Himamauli Das on Tuesday that seeks data that would help lawmakers identify marijuana industry barriers for minorities and small businesses.
"Specifically, we request data on the number of depository institutions that provided financial services to cannabis businesses, as well as a financial analysis and demographic breakdown of cannabis businesses that received banking and other financial services in 2021," the letter says. "As the primary government entity charged with collecting and analyzing financial intelligence, FinCEN data would help inform federal efforts around equitably ending the racist cannabis prohibition."
"Despite the cannabis industry's growth and maturity, financial institutions that provide banking services to cannabis businesses risk criminal prosecution," the letter continues. "Existing disparities in access to capital and financial services for individuals and businesses increase financial barriers and exacerbate the racial wealth gap, further harming those most harmed by the failed War on Drugs."
For decades, POC have been shut out from financial services, which has exacerbated the racial wealth gap. The cannabis industry is no exception.@repblumenauer & I want to find equitable strategies to invest in those most harmed by the war on drugs. https://t.co/SMXe0zC2u6
— Rep. Barbara Lee (@RepBarbaraLee) November 16, 2022
For the past couple of years, FinCEN has been publishing basic data on the number of banks and credit unions that report working with state-legal cannabis businesses despite those ongoing concerns about possible exposure to federal enforcement actions.
As of September 30, 2021, there were 755 banks and credit unions that had filed requisite reports saying they were actively serving cannabis clients, the latest publicly posted FinCEN data shows. Thats up from 706 in the previous quarter and from a previous peak of 747 in late 2019.
The public data doesn't provide demographic information about business ownership in the marijuana industry, but advocates have routinely called attention to the lack of minority representation in the sector, despite legislative efforts to promote participation by people from communities that have been disproportionately harmed under prohibition
"Given the increasing momentum of cannabis legalization and much-needed clarity from the federal government, Congress must devise a federal solution to equitably end the cannabis prohibition and encourage industry growth," Lee and Blumenauer wrote. "As we work to invest in the communities disproportionately harmed in the failed War on Drugs, FinCEN data on access to financial services could help promote equitable access to financial services for small and minority-owned cannabis businesses."
"FinCEN data could serve as a baseline for informing efforts around the creation of cannabis equity programs. For instance, data from FinCEN could aid marijuana decriminalization efforts and help determine how revenue collected by the government could be reinvested into small and minority-owned cannabis businesses."
In September, the U.S. Treasury Department formally sent the White House a proposal to start collecting data on marijuana businesses from banks—alongside industries it already tracks like liquor stores, convenience stores, casinos and car dealers—as part of its ongoing efforts to combat money laundering activities.
"We welcome the opportunity to work with FinCEN to ensure Congress is equipped with the critical data needed to effectively address equity concerns when crafting solutions to end the federal cannabis prohibition," the lawmakers' new letter concludes.
Short of decriminalization or legalization, lawmakers and advocates have also argued that passing more modest reform to protect banks that work with cannabis companies would help facilitate needed access to capital that could translate into increased minority and small business participation in the marijuana industry.
To that end, Senate Majority Leader Chuck Schumer (D-NY) has been working to finalize a package of incremental marijuana legislation, which is expected to include cannabis industry banking protections, as well as expungements proposals.
Schumer recently said that Congress is getting "very close" to introducing and passing the marijuana bill, colloquially known as SAFE Plus, following discussions with a "bunch of Republican senators."
—
Marijuana Moment is tracking more than 1,500 cannabis, psychedelics and drug policy bills in state legislatures and Congress this year. Patreon supporters pledging at least $25/month get access to our interactive maps, charts and hearing calendar so they don't miss any developments.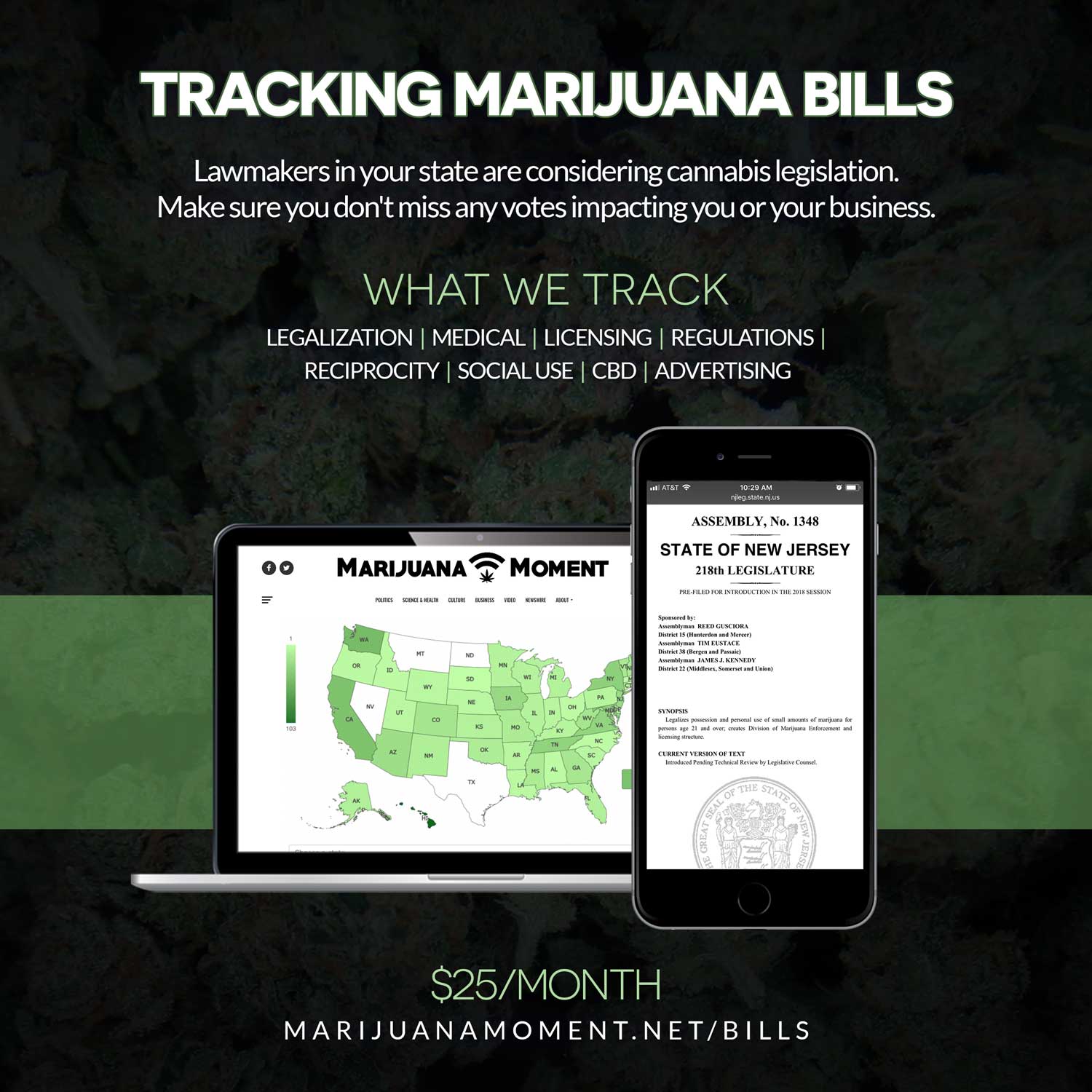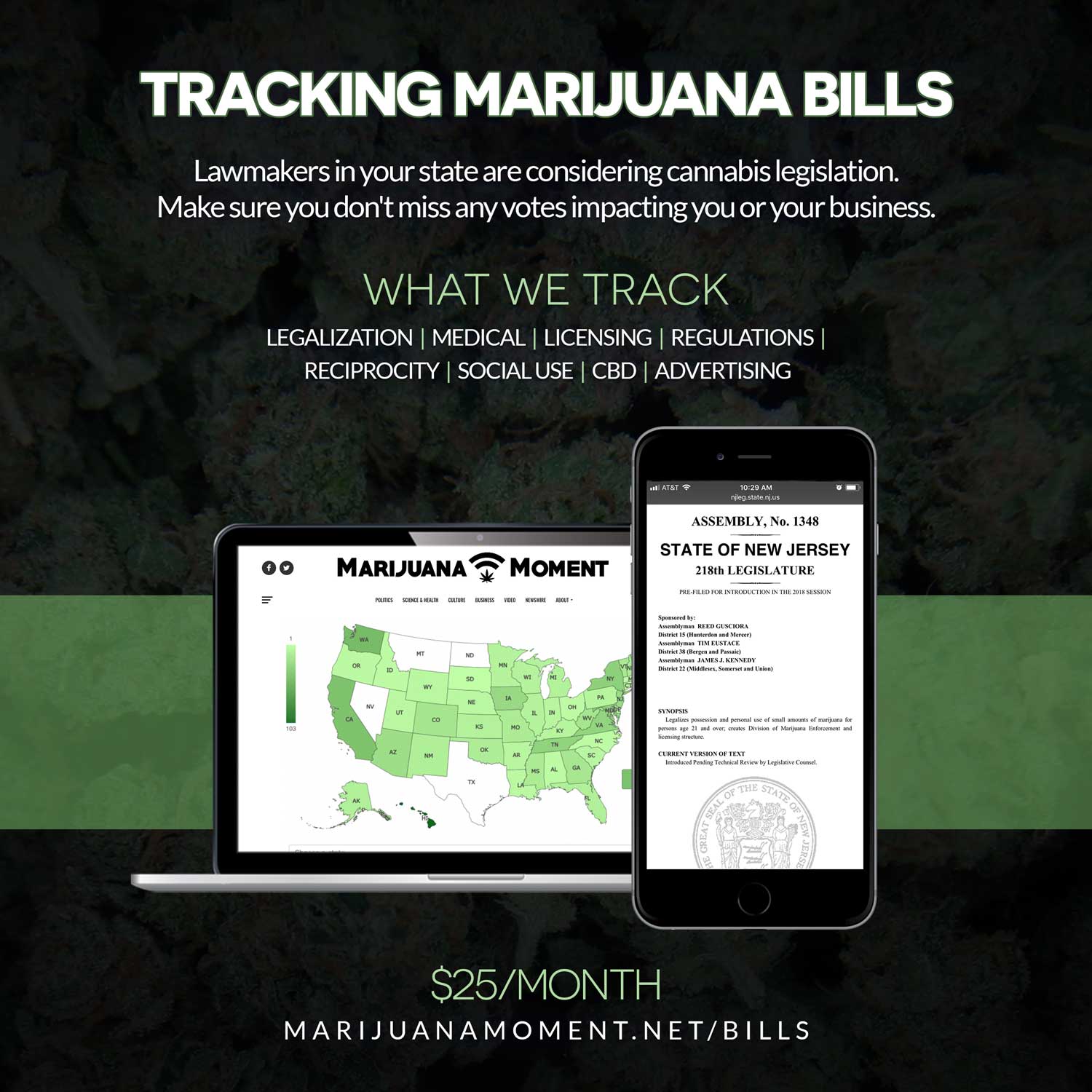 Learn more about our marijuana bill tracker and become a supporter on Patreon to get access.
—
Sen. Cory Booker (D-NJ), who is also a primary sponsor of CAOA, said on Sunday that, because Republicans will have a majority in the House next session, Democrats who want to enact marijuana reform must either do it "now" during the lame duck or wait until "many years from now" when his party has a shot at controlling Congress again.
The NAACP's board of directors approved a resolution last month calling for the "immediate passage" of a bipartisan marijuana banking bill and expressing support for federally legalizing cannabis. The Secure and Fair Enforcement (SAFE) Banking Act has passed the House in some form seven times now, only to stall in the Senate.
Two in three Americans want to see Congress pass a bill letting state-legal marijuana businesses access traditional banking services like checking accounts and loans, according to a poll from the American Bankers Association (ABA) that was released last month.
In September, the National Association of State Treasurers (NAST) agreed to reaffirm its support for a resolution calling on Congress to enact federal marijuana banking reform legislation.
Read the full text of the congressional letter to FinCEN about marijuana business data below: 
AOC Leads Lawmakers In Pushing Biden To Extend Marijuana Pardons To Immigrants
Photo courtesy of Philip Steffan.
White House Touts Biden's Marijuana Pardons Among 'Top Accomplishments' For Administration
Oregon Marijuana Company Files Federal Lawsuit Against State Over 'Unconstitutional' Cannabis Export Ban
Kyle Jaeger is Marijuana Moment's Sacramento-based senior editor. His work has also appeared in High Times, VICE and attn.
GOP Congresswoman Discusses Plans To Advance 'Winning' Marijuana Issue Under New House Majority
Louisiana Task Force Weighs Employment Protections For Medical Marijuana Patients
Maryland Lawmakers' Marijuana Workgroup Discusses Tax Options In First Meeting Since Voters Approved Legalization On Ballot
White House Touts Biden's Marijuana Pardons Among 'Top Accomplishments' For Administration
Oregon Marijuana Company Files Federal Lawsuit Against State Over 'Unconstitutional' Cannabis Export Ban
KY gov signs medical cannabis order (Newsletter: November 16, 2022)

All the cannabis news you need, all in one place. Copyright © 2017-2022 Marijuana Moment LLC ® and Tom Angell