Please Update your browser
Your browser is out of date, and may not be compatible with our website. A list of the most popular web browsers can be found below.
Just click on the icons to get to the download page.
Or continue login with
Inspired by the sound of '90s hip-hop, graffiti artist Stereoflow slowly turns the city into the vibrant colors of the music he loves.
On a bright morning in mid-October at Taman Menteng, Central Jakarta, schoolkids played soccer in a newly painted field. What was previously a pallid-looking field was now a colorful combination of blue, yellow and pink wavy lines crossing each other. The artist behind this floor mural stood on the sidelines, watching the kids.
"There's nothing specific about the color choices, actually," Adi Dharma told The Jakarta Post and other media outlets on Oct. 18. "Just want to share those happy feelings on paint, especially for kids like them."
Adi Dharma, best known by his street (and professional) name Stereoflow, has been painting murals at various spots in Indonesia for over 20 years, be they local basketball courts, a lakeside cafe at the heart of Senayan, Jakarta, or the giant wall next to the Cipete Raya MRT Station. The 4,000 square meter floor mural in Taman Menteng is his most extensive work yet, supported by the Jakarta provincial administration to beautify the capital.
With his signature style of abstract shapes and usually three vibrant colors, Adi's principle in his work is always the same: To make simple visuals, especially for the bustling, "complex" Jakarta, he said.
"I like using blue recently. I was traveling across the country and […] ah, sorry if it sounds like I'm sharing too much," he chuckled. There was an air of humility in Adi that might hinder people from seeing him as someone whose works have been displayed in art exhibitions across the globe.
But his traveling story is essential. "I was reminded that oceans surround Indonesia during the trip," he said, hence the increasing use of blue in his work. Adi's love of the country profoundly informs his paintings.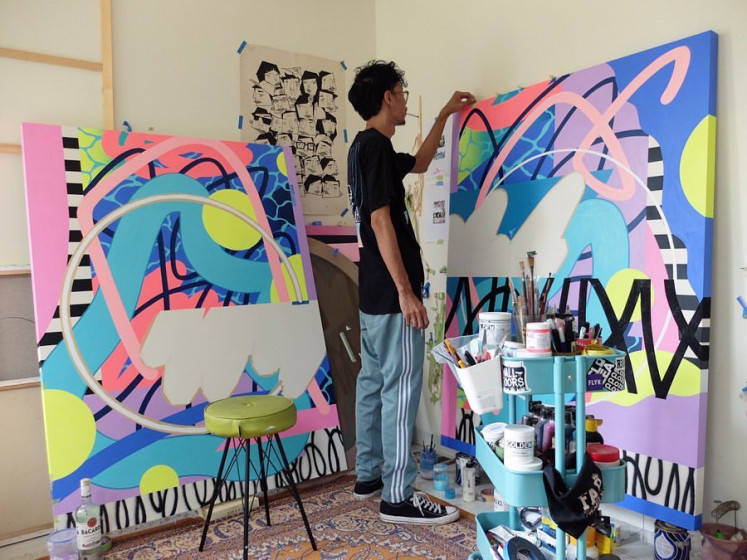 Inside the creative mind: Stereoflow is pictured in his studio back in March 2020. (Instagram/Stereoflow) (Instagram/Stereoflow)
The colors of rap and hip-hop
The 40-year-old graffiti artist, dressed in a simple white shirt, baggy pants, a cap and sneakers that morning, said he started painting graffiti in junior high school. Still, during a call with the Post the next day, he explained that his influence dated back way earlier.
"There was this hip-hop magazine back then, […] my older sister loved it. It was the booming era of hip-hop and R&B music, and she collected those magazines. I just read what she owned," Adi shared.
The magazine in question was Word Up!, a popular United States magazine in the 1980s about entertainment and music—mostly hip-hop, rap and R&B. But what hooked Adi most were the articles about graffiti, which led him to read more and try to copy the artworks inside.
"I've been a hip-hop fan since elementary school, in the early '90s," he said. Adi cited the genre's widely dubbed "golden era", including legendary hip-hop acts like Kris Kross and Public Enemy as his favorites.
This influence also led to his beats and raps. Adi used to rap under the moniker Spydee in the early 2000s. "Rapping, making beats and drawing graffiti all started as hobbies for me," he shared.
Asked if he still raps, Adi laughed and said he "couldn't", but he is still currently making beats, releasing some tracks with local rapper Matter Mos under SpydeeMatter.
"That's all just for fun, though," he said casually.
As apparent in his work, the lines and colors he paints can be traced back to the colorful 1990s art style and street fashion among hip-hop artists. So connected is he with music that—due to his lack of formal art education—Adi approaches every graffiti just like how he produces beats, going for both simple beat patterns and simple shapes and visuals.
"Perhaps the music we have today is so good that it becomes […] complex," he said, finding the right words. "But when I listen to nineties and especially eighties music, they're all [structured] so simply, so I enjoy them to this day."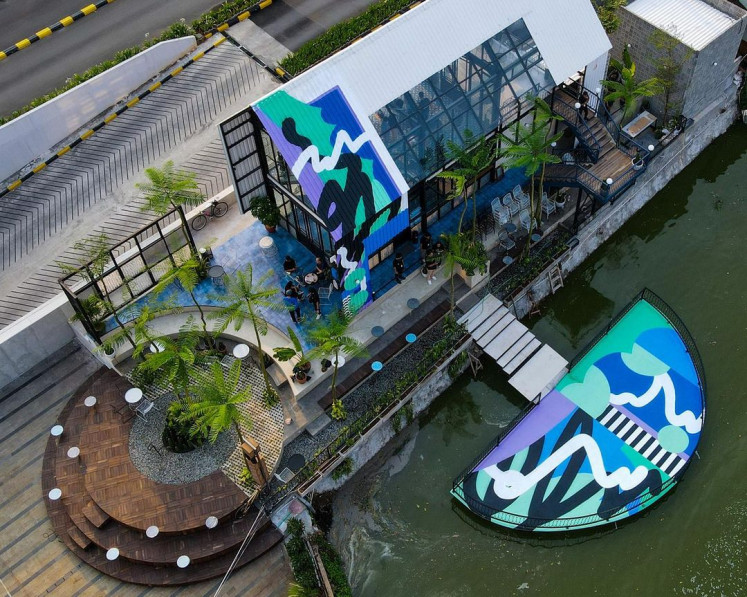 Striking colors: Stereoflow's signature works adorn the roof and floor of Kopi Nako Daur Baur cafe at Senayan Park, Central Jakarta. (Instagram/Stereoflow) (Instagram/Stereoflow)
A life of street art
Born and raised in Bandung, West Java, Adi's interest in street art did not directly lead him to pursue the city's renowned art faculties—opting instead to study international relations at Parahyangan Catholic University as a result of parental demands but he still befriended art students and gravitated toward their communities.
Stereoflow—originally intended as the title for his abandoned, potential rap album—was used as his graffiti tag circa 2003, long before Adi moved to Jakarta around 2012.
"My style developed with time. This abstract style became consistent around 2013; before this, I still incorporated a lot of characters and letters in the graffiti," Adi shared.
From a small garage studio in Bandung in his early adulthood to the ruko (shophouse) studio in suburban BSD city as a family man, Adi has made his mark in the country from one street art festival and exhibition to another. A recent noteworthy achievement was painting the tunnel of the Mandalika International Street Circuit in Lombok with established local mural artist Darbotz.
But as he spoke on the phone with the Post in his usual calm tone, Adi always seemed to be working on something—whether it was murals, sculptures or brand collaborations.
"The approach to every medium is different. When I made a motif for a shirt, I had to research the shirt and the streetwear scene, too. It's not just about putting a graffiti motif in another medium," Adi said, as apparent in his collaboration with sports brand Specs.
But above all else, the most fun he has is when he is painting graffiti on the street. Adi shared his experience of being chased and caught by the police in his early days.
"There's still some [backlash] today," he said. "But compared with 10 years ago, people are more open to graffiti now. Everyone understands that this is street art, that kind of stuff."
And it is street art that Adi cares most about. His biggest goal is to bring awareness to the public that murals can help the city reinvent itself.
"For me, street art is still evolving, for sure," he said. As part of the early generation of Indonesia's street art movement, he sometimes felt the burden of bringing it "somewhere" to a higher level.
"I want to educate the public more that this can also be a career, that you can live as a full-time artist from street art."
But despite leaving rapping out of his career, Adi still very much ingested local hip-hop culture, hanging out with local rappers, "the kids", as he called them, and adoring their songs. He cited renowned Jakarta rapper BAP. and the rosters of hip-hop labels like Hellhouse and WestWew among the many artists he listens to.
"Five years ago, there was still a gap between the old school and new school [hip-hop sounds]. But now they seem more united and solid," he assessed, filled with inspiration and admiration.
"There's an interesting wave of movement in the local hip-hop scene. It's fun."
TJP Documentaries: When The Music's Over
TJP Documentaries: How furries survive in conservative Indonesia
TJP Documentaries: Tamiya Racing Fever Still Alive in Indonesia
© 2016 – 2022 PT. Bina Media Tenggara